MFA integration for existing services within complex infrastructures is possible through Radius (Remote Authentication Dial-In User Service) systems. The Radius Protocol is one of the most widely used authentication and authorization protocols, which is why virtually all platforms, operating systems, hardware and software appliances contain within them the ability to authenticate with a Radius Server.
‍
For this reason Oplon Networks has decided to make available the ability to authenticate all services, operating systems, hardware and software appliances through Oplon Radius Server, with no agents or plugins within datacenters.
‍
Oplon Radius Server makes the provision of dual factor authentication (MFA) available to any service within the organization, on premises or in the cloud, in a simple and spontaneous manner as everyone has the ability to verify identity through the Radius protocol on board.
This example highlights the use of Oplon radius Server to authenticate and authorize users to use a proxy server to surf the Internet from within an organization. Authentication and authorization happen through MFA with no plugins or agents installed inside the proxy server, but only by setting the proxy server to authenticate through the standard Radius protocol.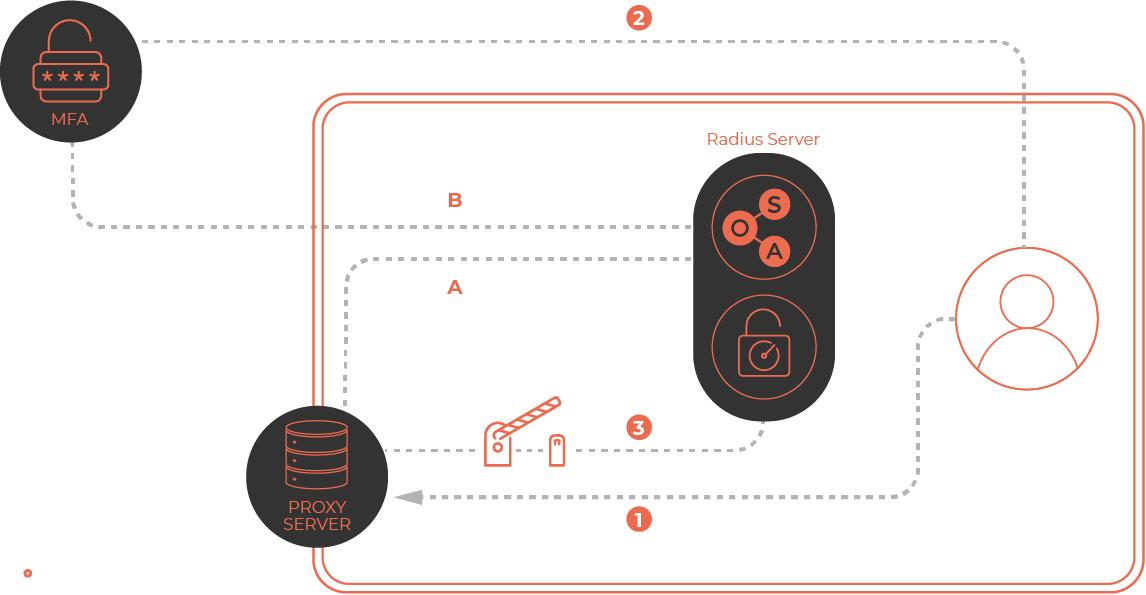 1.

The user requests to the proxy server to surf the Internet and sets Login Password

2.

The user must confirm his/her identity through Oplon 2FA app


3.

The user can navigate
A.

The proxy server requests the authorization to Oplon Radius Server

B.

Oplon Radius Server requests authorization in a safe manner to Oplon MFA system

All operations are completely transparent for the authenticating user: after the login and password, he/she will only have to confirm with the Oplon 2FA app that he/she him/herself will be using the requested service. As for the configuration of the service, the only thing that needs to be set up is Radius Server for the authentication and authorization. 
‍
Everything happens with no installation, plugin or agent.